Life is balance / La vida es equilibrio
Life is like a riding a bicycle. To keep your balance you must keep moving. Albert Einstein /La vida es como montar en bicicleta para mantener el equilibrio no debes dejar de moverte. Albert Einstein.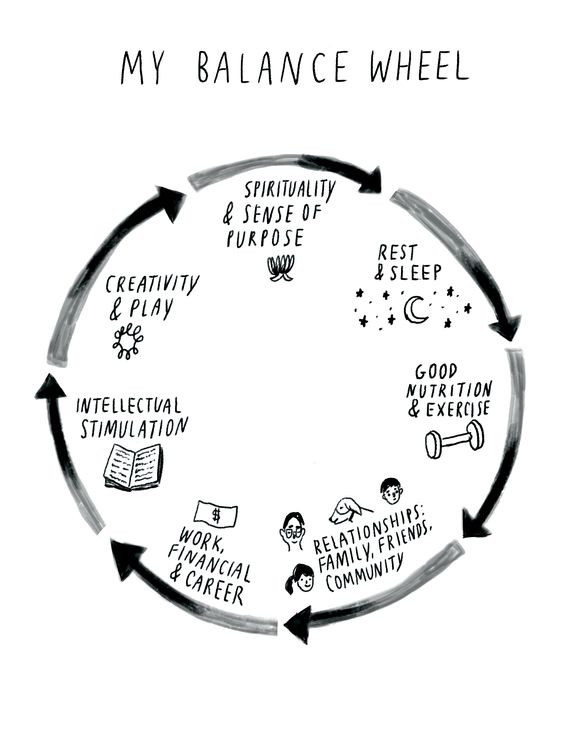 I would split up some aspects in this diagram (see below). Even you can add something else (I would add home). Now score each one or even better focus on each one and split them into various variables. If some subject has a low score you will be able to set up a goal to improve it. Remind the goal should be SMART (Specific, Measurable, Achievable, Realistic, Timing)following a plan and actions.
Altogether is interconnected. It is a circle!
Q: How is your life going? A: Let me check my wheel balance
Algunos aspectos de este diagrama los separaría. Incluso puedes añadir alguno mas. Yo añadiría "hogar". Ahora puntúa cada uno. mejor aún céntrate en cada uno y otorgarle distintas variables. Si algún aspecto obtiene una puntuación baja siempre puedes proponer un objetivo y mejorarlo. Recuerda que el objetivo debe ser SMART (Específico, Medible, Alcanzable, Realista, Timing) y que va seguido de un plan y el plan contiene acciones.
Todo está conectado. Por eso es un circulo!
P: ¿Cómo te va la vida? R: Permiteme que revise mi rueda de equilibrio
Espiritualidad / Spirituality
Propósito / Sense of purpose
Descanso y sueño / Rest and Sleep
Nutrición y ejercicio / Nutrition and exercice
Familia /Family
Amigos /Friends
Comunidad /Community
Trabajo / Work
Carrera Profesional / Career
Economía / Financial
Estimulación intelectual /Intelectual Stimulation
Creatividad y Ocio / Creativity and play
Hogar / Home