Recientemente me he encontrado este acrónimo en mi continuo estudio sobre mindfulness y desarrollo de carrera. Y no es nuevo, data de los años 90.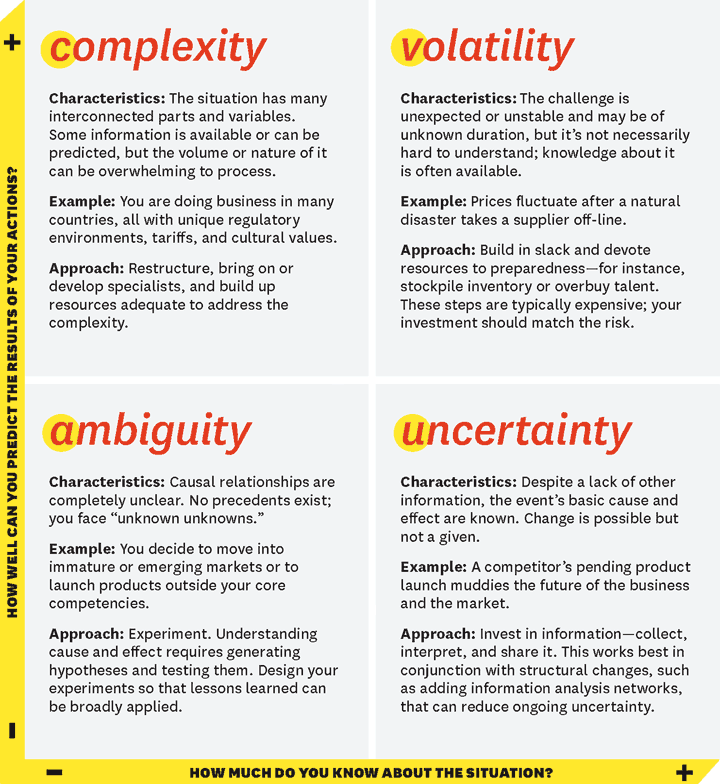 Volatility:Â A brutal increase in four dimensions of the changes that we face today: the type, speed, volume, and scale.
Uncertainty:Â As a result of the Volatility, we are unable to predict future events.
Complexity:Â Widespread confusion, with no clear connection between cause and effect, affects all organisations nowadays.
Ambiguity:Â There is a lack of precision and the existence of multiple meanings within the conditions surrounding us.
V = Volatilidad. La naturaleza y dinámicas del cambio, y la naturaleza y velocidad de las fuerzas y catalizadores del cambio.
U = Incertidumbre (Uncertaity en inglés). Falta de predictibilidad, perspectivas de sorpresa y sentido de consciencia y compresión de los eventos.
C = Complejidad. Multiplicidad de fuerzas, mescolanza de asuntos, ruptura de causa-efecto y confusión que rodean a la organización.
A = Ambigüedad. La distorsión de la realidad, potencial para malentendidos y los significados diferentes de las condiciones: confusión de causa y efecto